(Video) Lecture By Habib Haddad Cofounder of Yamli: "Idea to Reality"
31 May, 2009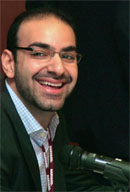 Habib Haddad the cofounder of Yamli, the Arabic transliteration utility and search engine,  delivered an interesting lecture titled" Idea to Reality" on May 18th at Princess Sumaya University in Amman, Jordan, as part of The Entrepreneurs Week which was organized by Queen Rania Center for Entrepreneurship (QRCE) from the 16th  tell the 21st of may 2009.
Habib presented an interesting lecture in how to turn your startup into a real thing, he used his experiences in starting Yamli and growing it as an example that Arab startups (and non Arabs) can take lessons from.
I announced originally on my twitter that I 'll do a live streaming of the lecture on ArabCrunch Channel on Qik, however the WIFI connection did not work at the event location at the time of the lecture, even though I tested it a day before. Nevertheless the lecture videos were synchronized  latter to ArabCrunch Qik Channel. Only about 10 minutes of the begging of lecture were missing.
Here are the videos I shot using my Nokia 5800 mobile (I think Nokia should thank me for over publicizing Nokia 5800 on  ArabCrunch :P)
Share and Enjoy
Categories:
Arab World
,
ArabCrunch Video
,
Events
,
Internet
,
People
,
Startup News
,
USA
Tags:
2009 event
,
Amman
,
ArabCrunch Videos
,
event
,
Habib Hadad
,
Jordan
,
lecture
,
PSUT
,
QRCE
,
The Entrepreneurs Week
,
Video Lecture
,
Vides
,
Yamli
,
Yamli.com